[ad_1]

Get ready to get a good laugh out of the drama stills of Lee Yi Kyung and Shin Hyun Soo in "Welcome to Waikiki 2!"
JTBC's new comedy drama "Welcome to Waikiki 2″released new drama stills of the two unstoppable troublemakers 'Joon Ki Bong' (combination of 'Joon Ki' and 'Ki Bong,' referring to the two characters Lee Joon Ki and Kook Ki Bong) in their cosplay costumes.
Producing director Lee Chang Min and writer Kim Ki Ho are referred to as the "Dream team of laughter," as they've succeeded in drawing endless laughter from viewers of the show's first season. The second season is receiving lots of love as the "Dream team of laughter" and the breathtaking acting of the cast combine to create unpredictable and even funnier episodes. The second season's story revolves around the struggles and funny moments the characters encounter as they struggle to take back the Waikiki guesthouse, which is at risk of going out of business. Just like the first season, the second season will provide us with endless buffoonery, yet still a relatable story for all viewers.
The cunningly funny Lee Joon Ki (played by Lee Yi Kyung) and pure-minded Kook Ki Bong (played by Shin Hyun Soo), despite their personality differences, provide us with endless laughter through the crazy mayhem they cause when they are together.
It's impossible to look away from Lee Yi Kyung and Shin Hyun Soo in their cosplay costumes. The top two images show Lee Yi Kyung dressed as Harley Quinn from the movie "Suicide Squad." He grabbed people's attention in the first episode by dressing up as the main character of the movie "Kill Bill," but this time he captured viewers' eyes with his sensuous and alluring look as Harley Quinn.
On the other hand, Shin Hyun Soo is shown on the lower left wearing the full Catwoman costume. The striking contrast between the muscular physique of a baseball player and the sexy outfit is what makes this picture so hilarious. The stills pique our interests and make us wonder what Joon Ki's master plan is behind this cosplay fashion show as he even involves naive Ki Bong.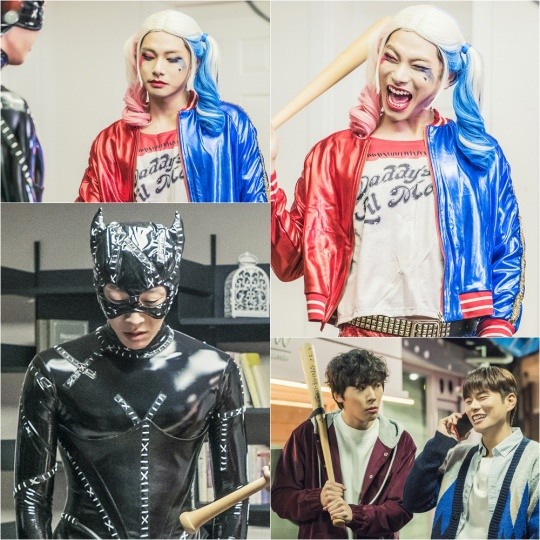 Warning: Spoilers ahead!
The third episode, which will be aired on Monday, April 1, will reveal dynamic and funny events Cha Woo Shik (played by Kim Seon Ho), Lee Joon Ki, and Han Soo Yeon (Kook Ki Bong's first love who is played by Moon Ga Young) experience as they go back into the Waikiki guesthouse. Woo Shik's sister, Cha Yoo Ri (played by Kim Ye Won), will finally be appearing in the upcoming episode, so that's another point to look forward to. It's exciting to look forward to how the characters continue to make us laugh as they strive to achieve their dreams and passions even though they're broke and unlucky.
The production staff stated, "Please look forward to the comic synergy 'Joon Ki Bong' will portray in the third and fourth episodes as they are always causing trouble when Joon Ki and Ki Bong are together." The staff added, "The chemistry between Lee Yi Kyung and Shin Hyun Soo, who put their whole hearts into their acting, is by far the best."
"Welcome to Waikiki 2" will air the third episode on April 1 at 9:30 p.m. KST and is available on Viki.
Watch the latest episode below!
Source (1)
How does this article make you feel?
[ad_2]

Source link